We have put together a first aid kit for horses that we feel will be hard to beat on price and a real asset for your tack room or horse box. The kit is available in two forms differing only in the amount of products contained within. Each kit comes with brief instructions explaining what each type of dressing is used for. They can be ordered from our office directly. These kits represent very good value for money however because of the huge discount on them they cannot be supplied on account but must be paid for before pick up. These kits will be limited to no more than two per customer.
Kit 1 - see below for content, is priced at £78 (£65 plus VAT)
Kit 2 - see below for content, is priced at £48 (£40 plus VAT)
Kit 1 - Image Shown.
10 x PowerFlex cohesive bandages - assorted colours 10cm x 4.5m. (similar to vetrap, strong and can be torn cleanly by hand allowing you to use a part bandage if necessary and keep the rest of the roll intact.)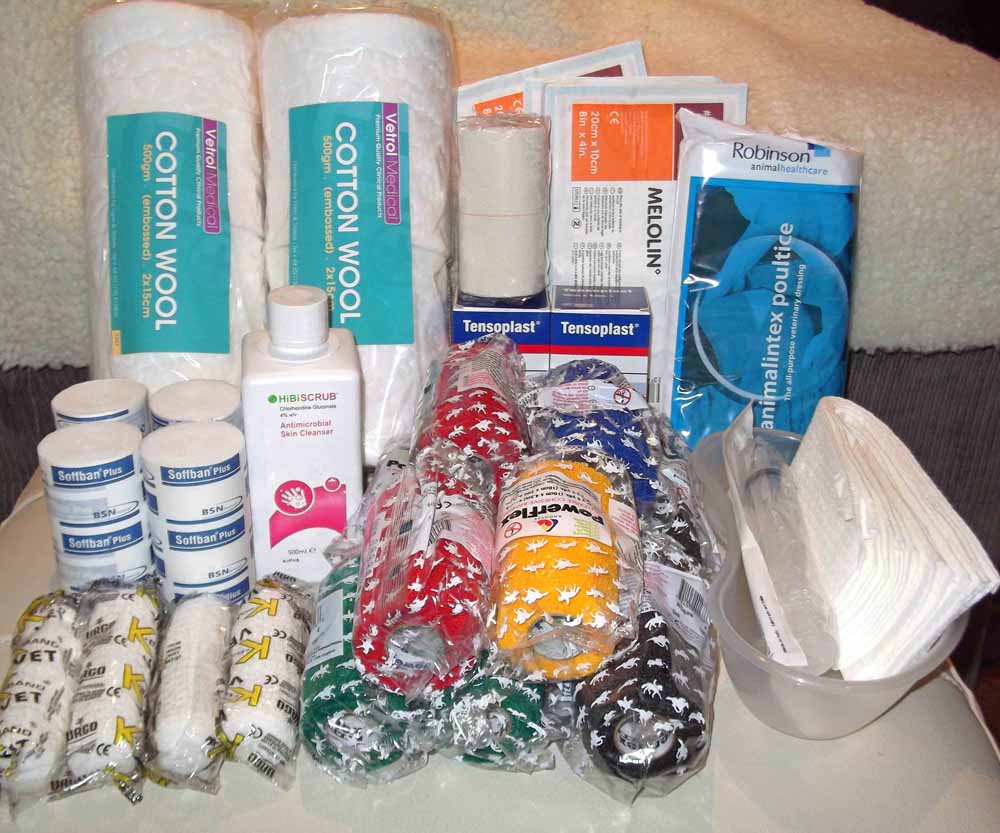 2 x rolls of cotton wool 30cm long but split in two halves of 15cm each, these are much more useful as dressings around limbs and cut down on waste.
4 x Soffban
4 x K-band open woven bandages.
2 x Tensloplast - 7.5cm x 4.5 m elastic adhesive bandages. (these dressings are expensive and hard to obtain in larger sizes like this but are very useful for sealing and protecting bandages over wounds).
4 x Melolin dressings - sterile wound dressings 10cm x 20cm
1 x Animalintex Poultice
1 x 500ml Hibiscrub
1 x 50ml dosing flushing syringe
1 x Kidney shaped bowl for clean water/hibiscrub solutions etc.
4 x sheets of thick paper towel for a clean surface to rest things upon.
Kit 2 contains
5 Power flex cohesive bandages.
1 roll of cotton wool.
2 soffban
2 k-band
1 tensloplast
2 Melolin
1 animalintex
1 Hibiscrub
1 dosing syringe
2 sheets thick paper towel.
Please contact our office during office hours to place an order. With the ever increasing cost of veterinary products it is unlikely that this offer will be repeated at this price once our stock has gone.