Gravelling and foot abscesses are common problems affecting horses feet. Gravelling and dirt tracts working up under the hoof wall along the white line are often picked up initially by your farrier hopefully before they develop into anything more serious. Abscesses will usually present as a very obvious lameness. Poulticing the foot to draw out the dirt and or infection in the case of an abscess is a tried and tested means of resolving the problem. Every horse owner will normally have some vetrap like bandage and a poultice in there tack room for just such an occasion.
We have put together two poultice kits at a very competative price so you can stock up your tack box without breaking the bank.
Poultice 1 - 10 x powerflex cohesive bandages 10cm x 4.5m - assorted colours, 1 x Animalintex poultice.
Poultice 2 - 4 x powerflex cohesive bandages 10cm x 4.5m - assorted colours , 1 x Animalintex poultice.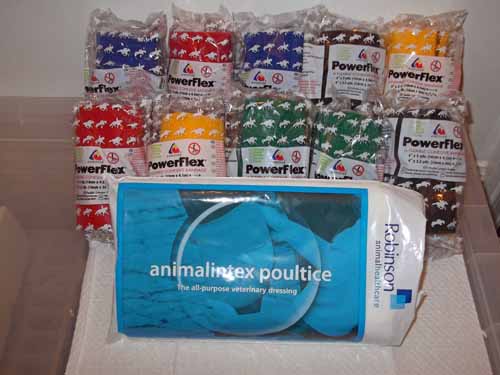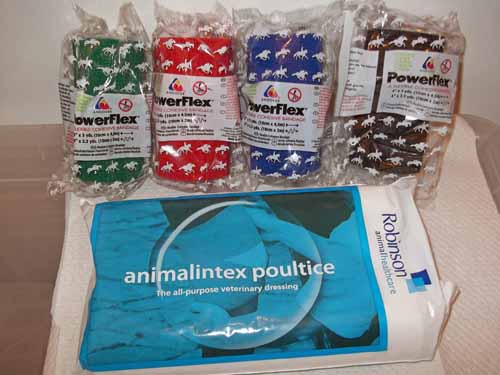 Poultice 1 - £24 (£20 + VAT) Poultice 2 - £14.40 (£12.00 + VAT)
As a veterinary practice we have used Powerflex cohesive bandages for several years now. We find them every bit as good as their well know competition and much better than many of the cheaper cohesive bandages that have flooded the market. Our experience with many of the cheaper products is they often fail to bond to themselves well, leading to bandage or dressing failure. Another reason we like Powerflex is the clean way in which it tears by hand allowing you to apply a part roll easily and tear off the remaining roll without the use of scissors and without producing tattered bandage ends. These bandages have many uses outside wound dressings and are supplied in an assortment of colours. Sadly we cannot supply one colour only at these prices.
Bandage packs - We can offer Powerflex cohesive bandage at the following price:-
5 x assorted colours 10cm x 4.5m £10
10x assorted colours 10cm x 4.5m £19.00
20x assorted colours 10cm x 4.5m £36.00
As with our first aid kits these are limited to a maximum of two per customer on poultice products. We can only supply a maximum of twenty powerflex bandages per customer. To order please contact the office during our normal office hours.